Simple Call Blocker
Simple Call Blocker is a utility that lets you block unwanted calls to your iPhone.
Features
Simple
Block numbers or number ranges.
Flexible
Blocks neighbor spam.
Private
No data ever leaves your device.
Native
Built for iOS. Uses the iOS native call blocking API.
Worldwide (Almost)
Works in many countries around the world.
How do you use it?
Simple Call Blocker allows you to add individual numbers, or ranges of numbers, that you wish to block to a block list.
You may also always allow certain numbers or ranges of numbers, so that they will not be blocked by this app, even if they are in the block list.
Optionally, you may also always allow all of your phone's contacts.
Where can I get it?
Download Simple Call Blocker, for free, in the iOS App Store.
Look for this icon: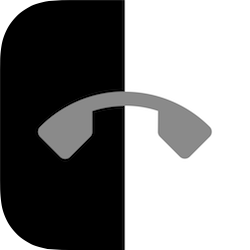 Who makes it?
Michael Descy, who is happy you asked.